Oslo was replete with emotion on May Day. At the Ullevaal stadium Bodø/Glimt faced off with Molde in Norway's equivalent of the FA Cup Final, ecstatic Molde fans seeing their team triumph 1-0 in a brain-numbing match of poor finishing and little excitement.
Meanwhile, in and around Youngstorget, a big square in central Oslo, a huge crowd of protesters gathered in their thousands to parade and sound off about everything from Israel's treatment of Palestine, to gay and transgender rights, to the demise of the Polar Bears to (naturally) the war in Ukraine. At Youngs' bar in the square two beautiful young Ukrainian musicians played piano and violin and there was hardly a dry eye in the house.
But nothing could match the sheer emotion or excitement of Marianne Sveen's long delayed album launch show for her very long delayed album, 'Next of Kin.' It's an album, six years in the making, which was suspended for very serious reasons, mainly the protracted illness and treatment of Marianne's daughter, Fia, who, we're delighted to say, has now made a good recovery.
The songs on the album, which I just had to make my album of the year for 2021, are reflective of the many people she met during that time, and stories she heard, which prompted her to reflect on the term 'next of kin' and what it means. At least one of the songs, 'Airily Merrily', directly concerns Fia, and has some of the most heartbreaking lyrics you'll hear.
Fia was actually in the audience and, so I hear, fell asleep. Don't expect a review from her anytime soon. Mum's greatest fan. Not.
The show took place at Cosmopolite Scene, an out-of-town venue in the northern 'burbs which I suspect may have been a cinema at one time. We have venues like that in the UK of course, but they don't compare with Nordic ones. It was tastefully set out with circular tables like a cabaret club and sealed the deal even before the show got underway.
Marianne was accompanied by the Nordheim Family, who seem to be a Scandi version of the Osmonds, or the Jackson 5, and an orchestra consisting of strings (violin and cello) plus guitar, bass and drums (see the end for details). The Nordheims are Aurora, Embla, Odd (Even couldn't make it – just joking) and Frid.
The show had a quiet start, opening with the album's first track, 'When Freedom Fails', a very sad song about Alan Kurdi the three-year-old Syrian refugee who drowned in the Mediterranean Sea in 2015 along with his mother and brother, the newspaper photographs of his limp body on the beach sending shock waves around the word. The volume was adjusted downwards almost as a mark of respect.
Then the mood was lightened with 'Look Away', a slow burner with a catchy chorus, before the first highlight of the evening, Marianne's marvellous take on Simple Minds' 'Don't you (forget about me)'. It must rank as the greatest cover of that song, ever; parts of it send shivers down your spine and it elicited a little shriek and punching of the air by the artist at the end, followed by another. And another. She and the audience alike knew instantly that Marianne Sveen had come home.
The anti-bullying song 'How Come' was delivered sympathetically and beautifully, with excellent backing from the Nordheims, followed by 'Before it hit me', a song for the lonely and with a vocal accompaniment on the night which at the end sounded, appositely, like an air raid siren. Marianne herself said "I find myself feeling the loneliest in a crowd." Not tonight, I'm sure. The crowd saw to that.
Then it was the turn of the Nordheims to delight us with "We'll never have sex", if that prospect could delight anyone, followed by a duet between them and Marianne, the gospel-like 'Rainbow Child,' which repeatedly reached the heights of a religious experience.
'Airily Merrily' followed, with Marianne forsaking the keys and taking to the guitar. I believe she arranged most of the songs on the album and on the evening for the multitude of instruments and voices available and what she created here on the night could only be described as an earth shattering anthem, a veritable paean to Fia.
'Elephant' is a song about those who have been let down as children by their closest family and Marianne and her ensemble were joined by her two nieces Johanne and Jenny, for it. Unfortunately my knowledge of Norwegian is the same as that of Japanese or Serbo-Croat so thanks to Marianne for explaining to me who they were.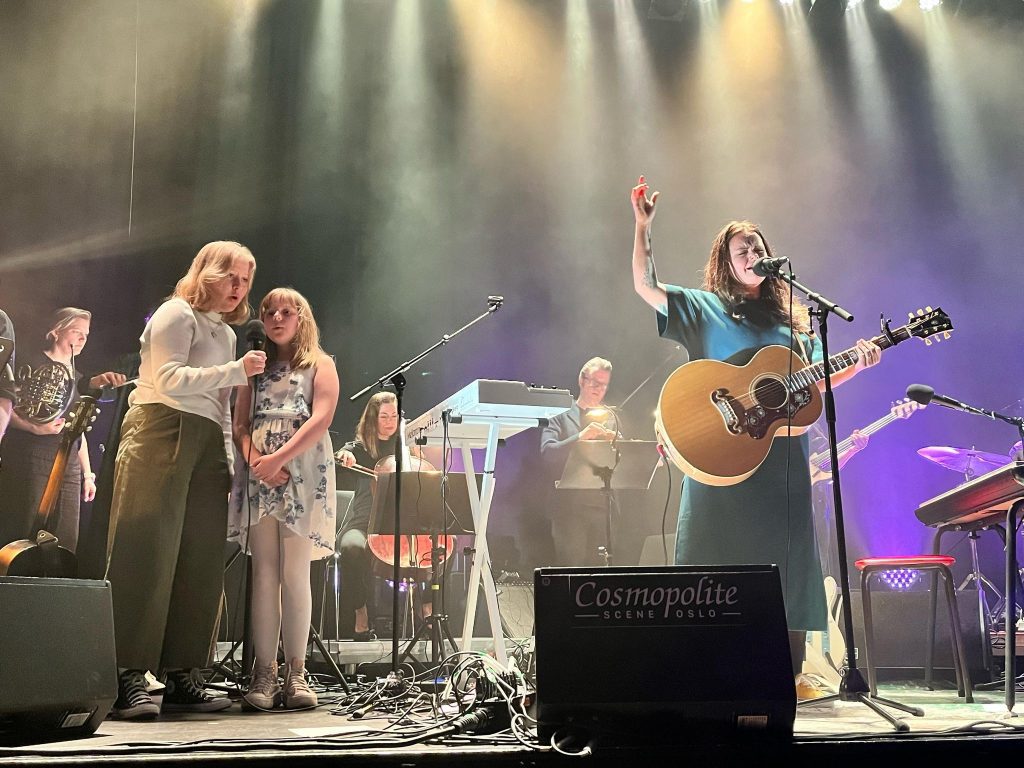 What matters is that they helped deliver an absolute masterpiece of a complex song with layers of instrumentation, two prog-rock style guitar breaks, a violin solo, and one that turned into a rocker at the end.
The show proper ended with 'Right as Rain', a ballad which has turned out to be the most popular streamed song so far. Another complex but oh so perfect string arrangement.
The audience demanded a return even before the ensemble had started to leave the stage and they soon were back, initially for Marianne to perform solo 'Let's go find stones' followed – again solo – by 'Calling you,' which really tested her vocal skills. I don't know where these songs came from, they aren't on the album, don't seem to date back to Marianne's 'Dandylion' days and don't seem to be covers either. New material? Bring it on. (And I must learn some Norwegian).
The third highlight almost closed the show. Perhaps it should have done. 'Heavy enough to sink' is a song about how some children have to grow up quickly and even to become adults to their own parents. The defining song of the album for me, it is packed to the gills with emotion, especially so at the end where Marianne's vocal turns to shrieks of anguish. "Does size matter?" she pleads. This version was simply magnificent.
The actual show closer on the night was 'Get over it', a real rocker again, and the only song on the album to have even the vaguest flavour of Katzenjammer (another two of whose members were supportively in the audience, a nice touch) in it; particularly in the expressive, repetitive bass line. It rocked all the way into an extended jam with a striking violin part and was a fitting end to a memorable night.
The show was a little emotional for me as well. Nordic Music Central is seven months old but this is the very first live review (you can tell, I'm a bit ring rusty) and my first live gig since 29 February 2020, which was in Oslo as it happens, at the By: Larm festival, just as a disease called 'coronavirus' was making its way out of a place called Wuhan, which no-one had ever heard of. Stella Explorer was the artist's name; she's from Sweden, for those who like pointless minutiae.
Tonight, the artist was simply stellar.
The band:
Bass: Nikolai Hængsle
Drums: Erik Nylander
Viola and other noise: Ola Kvernberg (who arranged the strings on some of the album) songs
Guitar: Torgrim Vågan
Horn: Marie Sollum
Horn: Kristin
Cello: Silje Gotaas
Violin: Lotte Hestad
More on Marianne? Read about her favourite songs here: https://www.nordicmusiccentral.com/all-news-and-reviews/feature-marianne-sveens-norway-five-course-musical-feast/